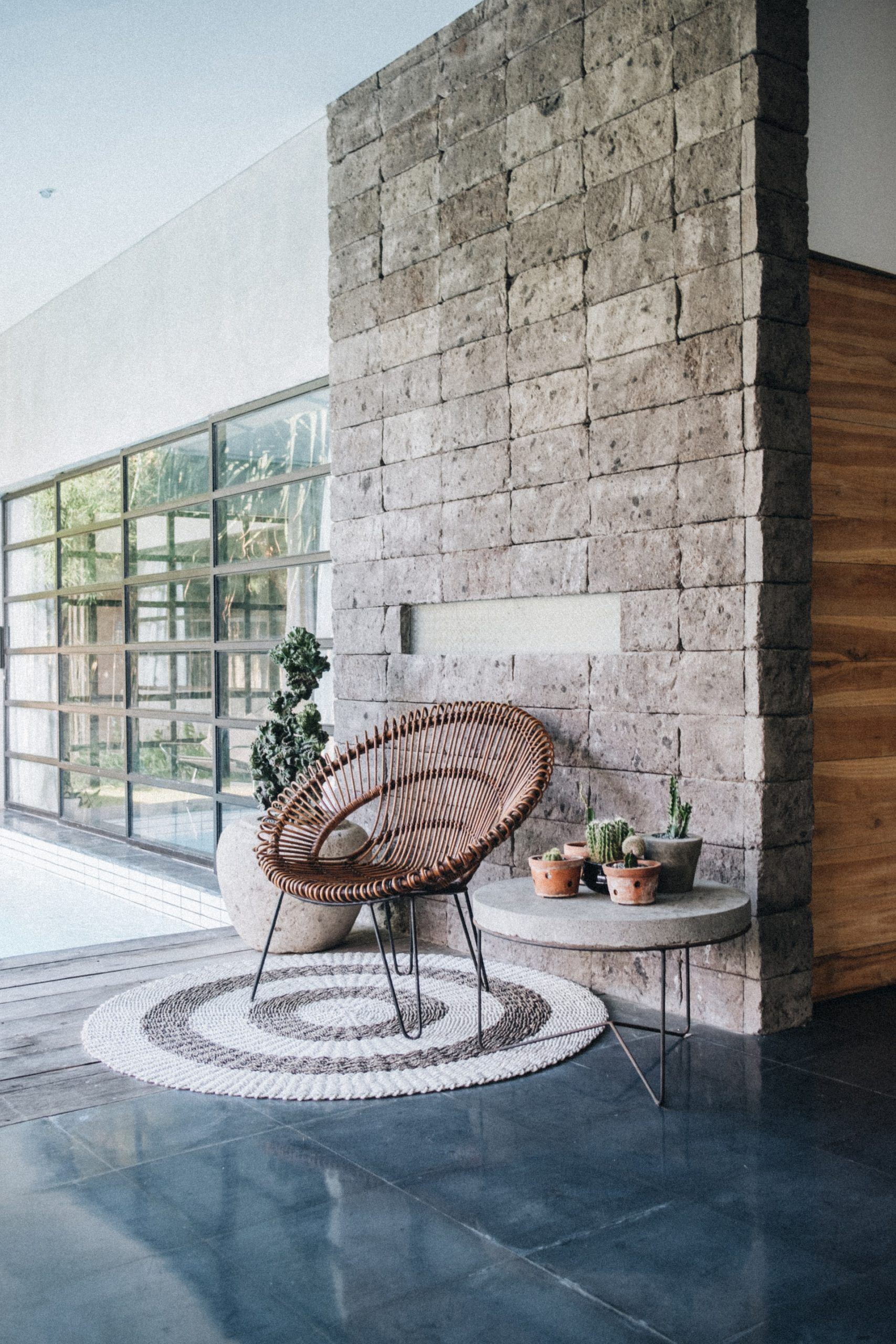 August 2, 2023

Devangini Mahapatra

0
If you have been following my recent stories, you will see that fixer uppers have literally taken my imagination captive. As a fan of the Joanna and Chip Gaines farmhouse style home aesthetic, I swoon at the sight of shiplap. Yet, living in a small farming town in Loudoun County, Virginia has helped me embrace my inner industrial junkie too! Here's a cool material that I have recently warmed to – concrete.
When you think of a farmhouse style home, visions of cozy shiplap walls and rustic wood beams might come to mind. However, in the world of interior design, there's always room for creative twists and unexpected charm. If you're looking to break away from traditional norms and make a bold statement, consider the unorthodox choice of using concrete in your farmhouse style abode. Yes, you heard it right – concrete! Buckle up as I delve into the fascinating world of combining concrete and farmhouse aesthetics to create a truly unique and captivating living space.
How You Can Use Concrete for a Farmhouse Style Home
1. Industrial Meets Rustic: The fusion of concrete and farmhouse style brings together the best of two worlds – industrial and rustic. The smooth, raw texture of concrete adds an edgy and contemporary touch that beautifully complements the warmth and coziness of a farmhouse inspired design.
2. Statement Flooring: Swap traditional hardwood floors for polished concrete floors that exude modern elegance. Not only are concrete floors durable and easy to maintain, but they also create a seamless flow throughout your home, allowing other design elements to take center stage.
3. Concrete Countertops: Transform your kitchen and bathroom spaces with stunning concrete countertops. The sleek, minimalistic look of concrete brings a sense of sophistication, making it an eye-catching focal point that contrasts beautifully with farmhouse style cabinetry.
4. Industrial Accents: Concrete can be seamlessly incorporated as accent pieces in your farmhouse-style home. Consider using concrete light fixtures, sculptures, or even custom-made concrete furniture to add a touch of industrial charm to your space.
5. Modern Fireplace Surrounds: Revamp your farmhouse fireplace by replacing the traditional shiplap mantel with a concrete surround. The cool, contemporary appeal of concrete juxtaposes against the warmth of the hearth, creating a captivating visual contrast.
6. Exposed Concrete Walls: Consider leaving a section of the wall exposed or opting for concrete accent walls to add an unexpected twist to your farmhouse interior. The raw, unfinished look of concrete offers a striking contrast against the cozy charm of the farmhouse style.
7. Industrial Chic Bathrooms: Bring an industrial chic vibe to your farmhouse-style bathroom with concrete sink vanities and shower walls. Pair these elements with vintage fixtures and distressed wood accents to create an eclectic yet harmonious space.
8. Play with Texture and Colors: Concrete is a versatile material that allows you to play with textures and colors. Consider stamped or acid-stained concrete to add unique patterns and hues that suit your personal style and tie into the farmhouse theme.
Incorporating concrete into your farmhouse style home offers a captivating departure from convention, infusing your living spaces with an edgy and modern twist. By thoughtfully blending the industrial allure of concrete with the warmth and comfort of farmhouse aesthetics, you'll create a space that feels truly one-of-a-kind. From statement flooring and chic countertops to exposed walls and contemporary fireplaces, the possibilities are limitless when you unleash your creativity. So, take a bold step and embrace the unconventional charm of concrete in your farmhouse-style home – the result will be a captivating and unforgettable living space that truly reflects your distinctive personality and design vision.
How to Decorate a Concrete Farmhouse Style Home?
Decorating a concrete living and dining room can be an exciting design challenge that allows you to blend industrial and contemporary elements with warmth and comfort. To create a stylish and inviting space, consider the following tips and ideas:
1. Balance with Soft Textiles: Offset the coolness of the concrete by incorporating soft textiles like plush area rugs, cozy throw pillows, and comfortable upholstered furniture. Opt for fabrics with textures like knits, faux fur, or woven materials to add warmth and coziness to the room. These curtains will add some fun and structure to the room!
2. Warm Lighting: Choose warm and ambient lighting fixtures to counterbalance the industrial feel of concrete. Use pendant lights with soft, warm bulbs above the dining table and floor lamps in the living area. Lighting with dimmers can also create a cozy ambiance for different occasions. Choosing sea glass and brass detailing will add a pop and finesse to the concrete backdrop.
3. Introduce Natural Elements: Bring the outdoors in by incorporating natural elements. Wooden furniture, potted plants, and natural decor pieces can soften the overall look and create a harmonious connection with the concrete surroundings.
4. Statement Furniture: Invest in statement furniture pieces that complement the industrial feel of the concrete. Look for sleek and modern furniture with clean lines and metal accents to enhance the contemporary vibe. Yet, don't feel scared to make a more cozy, cloud style choice. My personal favorite is this sea foam teal couch that would brighten up the grey walls!
5. Add Color and Art: Use artwork and colorful accessories to inject personality and vibrancy into the space. Choose artwork that complements the room's color palette and reflects your style. Bold and bright accents like throw blankets, artwork, or decorative cushions can make the space pop. But having said that, don't be scared to bring in a farmhouse style effect with a white, carved piece – secure interest with pattern where color doesn't need to pop!
6. Incorporate Textured Wallpapers: Consider using textured wallpapers with warm, earthy tones on some walls to soften the concrete look and add visual interest. Wallpaper can bring depth and character to the space without losing its contemporary edge. Bringing in this botanical print will soften the effect of the concrete and complement it with a different grey hue.
7. Create a Cozy Reading Nook: Transform a corner into a cozy reading nook by adding a comfortable armchair or a small sofa with plenty of cushions. Add a floor lamp or wall sconces for reading, and a side table for books and a cup of tea. This lovely bamboo daybed would be a truly lounge worthy addition with some potted greens nearby!
8. Layer Your Floors: Consider layering the concrete floors with stylish area rugs that match your design theme. Rugs can add warmth, color, and texture to the room, making it more inviting and visually appealing. This contrast hued cream rug with its peekaboo, ethnic vintage pattern will make for an interesting look.
9. Minimalist Approach: Embrace a minimalist design approach to keep the focus on the unique qualities of concrete. Remove clutter and unnecessary decor, allowing the beauty of the concrete to stand out. A piece like this one in rattan would be perfect with its blue frame to brighten the space, contain clutter and create an interesting nook. The rattan also incorporates a chic farmhouse style home's aesthetic.
10. Personalize with Accessories: Add personal touches and memories through carefully chosen accessories like family photos, sentimental items, or travel souvenirs. These personalized items will add warmth and personality to the concrete living and dining room. You can keep it old school and classic with these blue pottery patterned plates against the backdrop of concrete.
Remember, the key is to strike a balance between the industrial charm of concrete and the comfort of a lived-in space. By blending contemporary elements, natural touches, and warm textures, you can create a unique and inviting living and dining room that celebrates the beauty of concrete while making it a cozy and enjoyable space for family and guests.