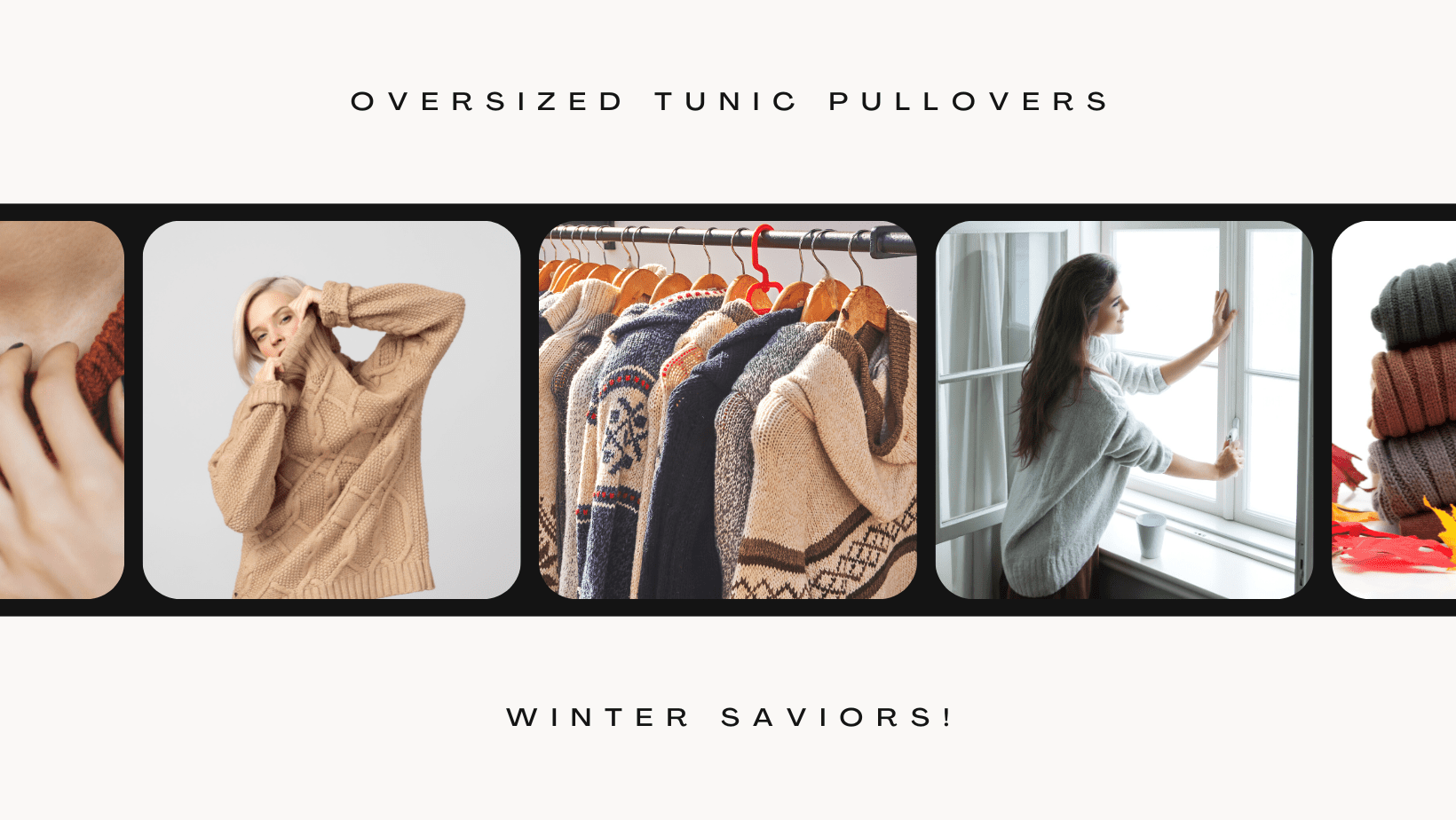 January 27, 2023

Devangini Mahapatra

0
The website may receive affiliate income from the displayed links.
I recently read a meme which was so relatable, I didn't know whether to laugh or cry. "Not gonna lie, the age I'm turning this year sounds serious and I don't like it." Same, Instagram. Same. 40 is a page I have been wanting to turn for the longest time – just so I can say, "oops, too old to change now." But more on that later. On the other side of this freedom promising milestone lay deep dread; one that comes up each time an almost 40 year old flings open her closet doors to ravage the shelves in pursuit of an answer to the eternal question faced by womankind in all shapes and sizes, in any era of history: what should I wear? Like many women who have watched their girth grow ever so slightly – refusing to budge to the same diet and exercise – I looked for answers. Oversized tunic pullovers and I got introduced as an answer to my fashion dilemma. Let me explain.
So here's how a typical day would go, if you do not own a single oversized tunic pullover in your closet. To begin with, you would always leave choosing an outfit to the last moment. Sheer dread and panic would take over at the very thought. You would stand facing the shelves, scanning from left to right, having a conversation that no self respecting grown woman should ever have – especially when she is at the receiving end.
A simple V neck top that looked great one me a year ago: Not now. Maybe when I lose some weight.
The collared sweatshirt with its curve hugging contours and a short zip from neck to chest: Nope.
My favorite stack of pullovers with turtle necks and crop top style hemlines: Absolutely not.
And the verdict: I look terrible in anything I wear.
Well, dramatic as it may sound, this language slowly became programmed and tattooed into many an almost 40 year old female brain. I was guilty of harboring these thoughts, especially when I look at momfluencers rocking athleisure by day, and leggings with casual yet chic tops by evening, holding a wine glass with mom juice et al. Yet, there was something that I was completely missing – and it emerged when I looked a little closer. Two things, actually.
One: Everyone has a different body type.
Two: Everyone is also keeping things loose around the top and hips, whistle also covering the rear. Subtle, but very much a common pattern. And it didn't look half bad.
Now, here's what I realized – a third, very crucial thing. We need to have fun dressing up that body. Just because we cannot dress like we are 20 and just because we cannot get away with it like we did in our 30s, does not mean we cannot have some fun. To begin with, I questioned myself – what am I scared of? A fitted tee shirt with a long shrug goes perfectly well with my slowly emerging greys. And who says it cannot be fun just because it isn't just a fitted tee shirt with fitted jeans. See what I'm doing there? I am showing you why my spirit animal wears oversized tunic pullovers – and so should yours. When I first pieced together the phrase Oversized Tunic Pullovers, my brain did something my body and soul needed. It broke it down as follows: Oversized = comfortable; tunic = will cover what I am not too thrilled about; pullovers: will keep me warm! What's not to like?
I am showing you why my spirit animal wears oversized tunic pullovers – and so should yours.

Quoting Myself.
When time came to do the usual 6 month addition to my wardrobe, I looked at Amazon with new eyes – and new keywords. Instead of looking for the typical long sleeved tops for fall, I began to search for 'Tops for Women Casual Elegant.' As I scrolled, I realized I was looking at some very stylish pieces. I found an odd tunic that gave me more ideas. I went back to the search bar and typed "Tops for Women Comfortable Knit." I had always liked the texture and fall of coarse, earthy woven threads, with some structure. And there it was – an oversized tunic pullover that stood out over all else. Bingo!
Before I give you the exact products that were affordable, well made and high quality, let me tell you how to find the perfect oversized tunic pullover for yourself:
Cut: The overall cut of your oversized tunic pullover should be one that flatters you and lets you go about your day or your evening with ease and comfort. It could be slightly tucked in at the waist, or have an asymmetrical hemline that would look lovely with some height in terms of footwear. Remember to consider buying a piece that can easily go from day to night.
Structure: Ensure that the sleeves are slightly puffed and sit with the waist rather than the armpits. This will ensure everything is tucked in – fashionably! The shoulders can also hang loosely rather than sitting squarely on the edge of the shoulder bones.
Length: Remember to choose something that falls low so that you can pair it with leggings and jeggings. If you plan on wearing the oversized tunic pullover with bootcut or straight cut jeans, you should go in for something that isn't too long.
Sleeves: Some of the oversized tunic pullovers that I tried had shorter sleeves. This helps you pull them to the elbow for a stylish yet understated puff so that you can show off some cuffs and chunky watches. Yet, I am also a fan of longer sleeves that can be folded into the blazer cuffs and pulled up for a fashionable look.
Neck: When opting for a tunic pullover, look for a dramatic V neck so that you can wear a lace camisole underneath, or simply go for an open cowl neck. A stiff turtle neck usually has me feeling uncomfortable in a few hours, even as I question whether I have two or four chins.
Material: Definitely go in for soft material like wool with polyester and viscose. If you do not want very chunky pieces, look for simple waffle knits in at least 90% polyester. That would fall well and also accommodate a blazer on top.
When you start to dress up in oversized tunic pullovers, you also step into a whole new world of accessories and styling. Here are a few things that I embraced to style my pullovers, depending on the time of the day and the occasion on hand.
A long necklace: Whether it's a simple pendant suspended from a long chain or a string of quirky, mismatched beads, a long and flirty looking neck piece would be a great look to add length to your outfit.
Heels and boots: Adding some heels or boots to your oversized tunic pullovers is always a great idea! It will balance the loose top and add more sway to the look.
Flat shoes: But, do not underestimate the power of ballerina shoes in a metallic hue to add some contrast and casual fun to the outfit.
Leggings: This is a great go to when it comes to styling your oversized tunic pullovers. Leggings or jeggings with a zip at the ankle would add great detail.
Danglers: If necklaces are not your style, you can bring in danglers or hoop earrings for some glamor to your oversized tunic pullover!
Of course, like most new kinds of clothing, it took a little trial and error before I found my perfect fit, material and length for oversized tunic pullovers. So here's my list based on my own experience and some reviews that were oh so helpful!
So are you ready to layer and slay this winter? Invite those oversized tunic pullovers into your closet today!