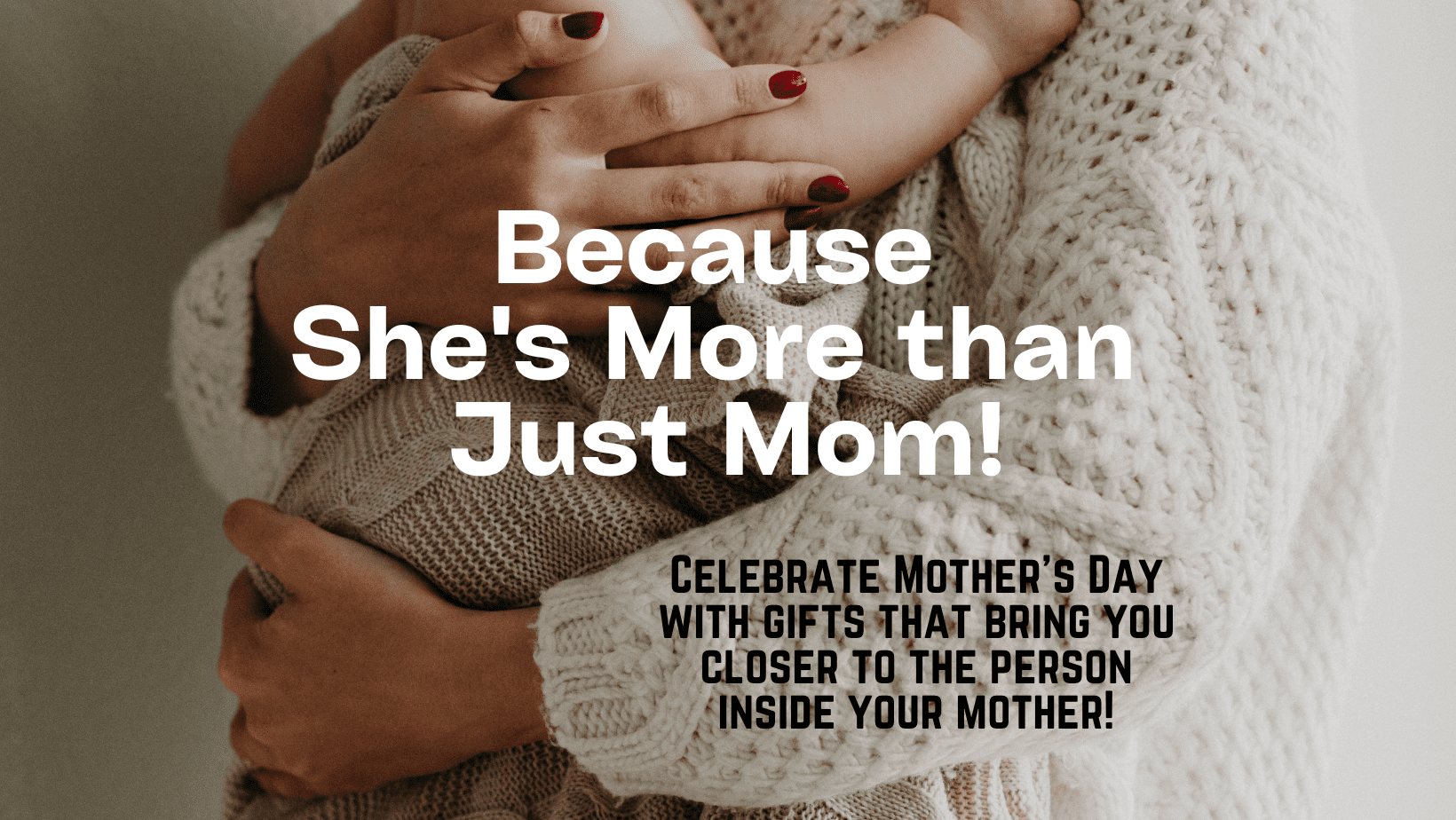 April 16, 2023

Devangini Mahapatra

0
Yes, it is indeed that time of the year. Spring has sprung and we are on our way to that special Sunday which comes with a certain head scratching question: what would be the perfect mother's day gifts? When we think of mom, we think of an entity who can do anything and everything. We often forget that behind this entity, there is a woman who might like to do certain things more than others. She might struggle with a few tasks or activities, but doesn't show it. She might prefer to spend her time in a certain way. While in our subconscious mind, we are aware of the personality of our moms, we may not be able to list their exact identity when asked. Because to us, she is simply mom.
What is the way around this predicament? The answer is a simple one. Look at your mother's interests and find out time? There are a number of ways to decode the mother's personality to get her the best mother's day gift. I do remember struggling with this question for many years: what do I get my mom for mother's day? The lady seems to have it all – and she doesn't ask for much. When I looked around at the other mother figures in my life – aunts, mothers in law, grandmothers – they all seemed to suffer from the same condition. Everyone wanted what the kids wanted.
The Secret to the Best Mother's Day Gifts
Much thought and deliberation seemed to have gone into the gift every single year. What would mom want? Should it be something to do with her children, or something that reminds her that she is more than just a mother? Are we correct in celebrating only that part of her identity, or is there more to her that we should acknowledge on that day? And then, the most burning question of them all. By only celebrating her as a mother, am I once again making it all about me?
While I pondered these questions, it was the father of my daughter who gave me much pause – and perspective. On our daughter's birthday, he said to her, "today has very little to do with you or I. Today, you should wish your mom happy mother's day because she did all the heavy lifting and all the work to make you happen. Today she became a mother." I was touched and had brand new clarity. I have now arrived at the simple secret to mine the best mother's day gifts, year after year.
The Case for the Personality or Interest Based Mother's Day Gifts
When we choose to focus our mother's day gift on one the things that would give her something to smile about, here's what we are doing to celebrate our mother:
Every mommy knows this and will agree with me. Mothers need to pause. They need a break. They need to be able to feel themselves and feel like themselves, every once in a while. In fact, I wrote an article not so long ago about a landmark ruling that put forth the actual earnings of a stay at home mother. In fact, a recent study showed that mothers typically, on an average, have a 98 hour week. And then, a lot of them work as well.
When you celebrate mother's day with a gift that celebrates what she likes, you are showing her that she is seen and heard. She won't feel like she is indulging in a guilty pleasure.
A mother's day gift that brings her something joyful – something that is purely about her – will show her how far you have come. It will let her know that you are now matured enough and understanding enough to recognize her needs.
In effect, you bond better. You become a partner in crime. You become her cheerleader. Remember what that felt like when you were a child, in her loving care? That's who you want to be to her now.
Finally, you give her something to focus on when you are busy adulting. And when you circle back, there will less of those typical worry induced questions. Instead, you will have so much more to talk about, so much more to share. She would have done something with her day too – with something you gave her as a mother's day gift!
The Mother's Personality: Reading It Through The Lens of Interests
All human beings come with a personality type, or a combination of a few personality types that make them unique. A mother is a human first, but to us she may not seem so. To us, her personality is one that includes qualities like a can do attitude, nurturing and caring while efficiently running the home. While we may not be able to understand exactly what personality type our mother has, we can ask a simple question to learn more.
This may sound like a simple question. But it is a powerful, thought inducing one. And this one might be easier to answer the question that will actually follow as an answer: what is the best mother's day gift? Not for mother's day, but for your mom. Instead of a question, you will find an automatic answer, hidden deep in those moments when you caught her unaware. When she thought you were sleeping, but you were watching her. While she took a few minutes between chores to just be. That day you came back from school early and found her bent over something you never thought you would see. On the couch, on the walls, on the kitchen island – things that appeared, things you did not ask about.
Those are the things that will spring to your mind when you ask this question. That is who your mother is. And she would love your company as she goes about them and spends more time doing those things. If you give her something to fuel that interest and make those moments more frequent, she will feel like you are constantly with her.
So, let's deep dive into a few interests that may resonate with you and the image you have of your mother in her stolen moments. Because there you will find, the best mother's day gift!
The Best Mother's Day Gifts for the Artist
My mother is an artist, so I am going to start with this one. She is at the fag end of 60 – which I tend to forget. If your mother is an artist, or finds herself doodling, painting, making cards, or taking her paintbrush to a canvas, here are a few things that she might like!
Brush Rinser: This is a great product that has a number of good reviews. I picked it because it is easy to handle, easy to clean and can work with low water supply too. If your mother is like mine, she constantly runs out of clean paintbrushes while she works, and this could be the best mother's day gift for her! Of course, I would suggest pairing this with other items for a complete set. Keep scrolling for ideas!
The silicon craft mat is a genius buy for anyone interested in art! Because, no mother wants a mess. The mat is a cool mother's day gift because it can travel with her. Imagine being able to fold it and carry it with her. Additionally, the cup for water and the slots for paint will make her life so much easier. Reviews are raving about the magnetic cup that sits firmly on the tray. A simple wipe down helps keep the mat clean. To my mind, this would be perfect when paired with the paintbrush rinser above!
When choosing paints for mother's day gifts, remember to choose the basic set rather than a complex one. I'll tell you why. If you are not an artist yourself, you might end up spending on something that might not meet your mom's needs. And the more complicated the paint set, the more specific it gets. But a basic set, on the other hand, will always be in demand within her art arsenal. This set does the trick and will ensure that she always has her base acrylic paints on hand. The paints can be used for a number of textures from rocks, to fabric and even wood. It comes with a paintbrush set that will ensure she always has extra brushes!
Is your mom tired of visiting craft stores to pick individual canvases of different sizes, and at a high cost? Now this next product is pure gold – and at a great price too! The 24 canvas set comes in four sizes (5×7, 8×10, 9×12, 11×14 Inches) and it has a cotton primed base that's great for acrylic, tempera and watercolors. With 6 pieces in each size, there won't be a dearth of options when it comes to expressing her creativity. This would be one of the best mother's day gifts for the artist mother. The best part is that it mostly has 5 star ratings from actual artists, which make it a reliable buy.
The large capacity pencil case here is a great, compact way to carry pencils and other supplies that would aid art and creativity. The sturdy case comes in a number of colors and it is a polyester piece with a strong zipper. This would be ideal to keep things organized for your mother when she draws and paints!
Art is in the details. If your mother loves to paint, then she would love to capture the details of her vision with these fine tipped brushes. This set comes in handy while trying to render fine details on various objects. The brushes would make a fine mother's day gift since they can be used on canvas, fabric, wood, rocks and much more! These miniature brushes would be super expensive to pick up at a craft or hobby store, which makes it a great buy since its a cool set at a cool price.
The Best Mother's Day Gifts for the Gardener
Many moms find that they become best friends with nature after all those years of accompanying their kids to the park and generally taking long walks in the stroller! It was certainly the case for me, especially when my daughter was little and I would foray into the hills to keep her peaceful during fidgety afternoons. Later, as she grew older, I ended up making a gang of wonderful friends at the park – and we formed a support group of sorts!
If my mom is like yours, then she took this tryst with nature a few steps forward and turned to gardening to soothe her soul. Apart from tending to flowers and fruit, my mom and my mom in law both enjoy walks in the woods and creating zen corners with water sources and peaceful buddha statues in the house (my Instagram feed @ourstoriesandall will tell you more!). So, for my gardener moms and for yours too, here are a few perfect mother's day gifts!
The complete mini greenhouse. This would be a treat for the gardener mom! Imagine this portable greenhouse that can be carried anywhere. And as if that was not enough, it also has shelves to place a number of planters. Now, I have the perfect gift that will keep my mom from getting sad for the plants and flowers that tend to be unhappy in colder or warmer weather. The 4 tier greenhouse with shelves that can be moved to fit in any plant height also comes with great reviews!
Gardener moms absolutely love to pair succulents, flowers and other plants together. I have actually watched my mom try to find the right planter for a collection of plants. Her vision is often marred by a lack of options. So this planter seems to be just the thing to make her happy! This stackable planter comes in durable plastic and can be used indoors and outdoors. You can actually plant vines to tumble down from the top, and a few herbs in the lower ones, with succulents peeping at you from the center.
The garden mesh netting kit is a must buy – and here's why! My mom is on the constant lookout for rabbits and deer, because they love to munch on her pretty and fragrant flowers. We often laugh about how fanatic she gets about protecting her plants and anything that they bear. So this mesh netting kit with its hoops and clips will make for a perfect mother's day gift! It comes in two sizes – regular and tall. The reviews talk about how easy they are to assemble and how they fit into different sizes of flower beds.
These raised galvanized beds with their circular shape and sturdy finish, would make for easy gardening. The farmhouse look is what really got me though! The best part is that these raised beds come with metal stakes that can hold up what you plant in them, especially if you happen to plant vegetables that need a little support. The size is 7 x 3 x 1 foot. Yet another one of those wonderful mother's day gifts that will last a long time.
Each year, when Spring begins to show up, my mother takes to a certain ritual. The hummingbird feeders come out. She swears by these because they are red which is a color that attracts these birds. And they are also easy to clean and maintain! The feeders give us much delight and she can actually sit watching them for hours while she gardens. The antique stamped and embossed design makes it an attractive piece to add to the garden. It can feed five birds at a time – if they don't fight each other away!
Best Mother's Day Gifts for the Crafting Mom
Scrapbooking, sewing, label making, jewelry making, charm making – there are so many crafts that a mom takes up. I have seen mothers who tend to combine all of these into some form or the other, into something unique. While some may like making jewelry with pressed flowers, there might be others who use the same art for photo collage books. Putting together this list was fun, but also difficult – because I did not know which ones to choose and which ones to keep! So here's the list.
If your mom is an Etsy mom like mine, she is going to love this! I have to admit, I was tempted to get this one for myself too. This heat press machine is a portable one that comes in a more compact size than its predecessor. Which also explains the great reviews! The FCC certification also makes this one a reliable and safe instrument to buy. She can roll those stainless steel mugs and tumblers with ease to create DIY products. I personally love tumblers with the names etched across in various fonts – so this one is definitely on my list of the best mother's day gifts.
Which crafter is not on the eternal search for an even better hot glue gun? That's my mom, right there, in about 20 words. So if your mom is a crafter, I have great news for you. This cordless hot glue gun is a 60W wonder that enjoys 5 star reviews! It comes with 30 sticks of glue, all 4 inch. And it would also allow her to use it on metal, wood, and a number of porous and non porous material. The hot glue gun comes with a base to hold it while it is hot, and it has a non drip feature plus a smart power off function.
What do you call a label maker that can print and use bluetooth? A perfect mother's day gift. This label maker is going to make mom very happy! The font options, the thermal technology, the bluetooth options for iOS and MS Office makes it a brilliant buy. The icing on the cake is the waterproof feature. When I checked the reviews, I also found that 75% of the buyers had rated it a 5 stars, which is an encouraging thing. So if your mom likes to makes stickers and labels, you know where to go.
This all in one craft island has visited me in my dreams. I may not be a crafter, but my mom and mom in law are. And I can safely say that I would happily turning into a crafter with this table! Also, I do have a thing for tables with exposed shelves on the sides. With cubbies to hold and access ribbons and fabric, this table is a must buy. The top has a little drawer that helps you organize the smaller items that usually give you the miss when you most need them. The top itself is perfect for a sewing machine. Get this island and watch your mom build a studio around it! The counter height is a comfortable one while the shelves can be changes at will to stick various objects.
My mother is a jewelry designer who creates charms and other objects on medium like polymer clay and resin. What she often needs is a dryer with adjustable racks and a compact build. I can see her getting much use out of this machine. It has trays of various sizes, with 3 larger and deeper ones. This gives her the flexibility to dry many objects at the same time. The Teexpert brand itself is a well known one that has served over 10 millions customers worldwide! With the technology built into this piece, it is easy to see why!
Best Mother's Day Gifts for the Mom Who Loves to Cook
I love to cook. At the end of a long tiring day, I actually look forward to being in the kitchen and unwinding. Simple actions like chopping, stirring, blending and baking make me a happy soul. Even if it is a simple meal, I like to enjoy that me time in the kitchen. If your mother is someone who loves her kitchen as much as I do, these are the perfect mother's day gifts for her!
Nothing says summer like this Hawaiian Shaved Ice and Snow Cone Machine. I don't know what I fell in love with first – the machine, or the colors it was sprouting! With reusable cups and a one year manufacturing warranty, this one is a cool buy to ensure that Mom's happy during the summer. You also get a 6 flavor kit that's bound to keep everyone happy! It also has a very handy non slip mat and the product itself seems to be moving fast. So buy this one before it goes out of stock!
This Backcountry Pre Seasoned Cast iron Skillet is bound to make mom happy! What I love about it is the coppery finish and the glass finish bottom for non stick cooking. This one comes in a variety of sizes from 6 to 12 inches, and can even be purchased as a set. It has been seasoned with grapeseed oil in a quadruple seasoning process. The heavy weight retains heat for a longer period and makes this the perfect pan for grilled and smoked dishes.
This rice cooker will make life so much easier in the kitchen – whether or not your mom loves to cook! with 18 functions and a bright LED display touch screen, you will feel like you are in the culinary cockpit of your dreams. I am considering this one for my mom, but I am also tempted to bring this one home for myself! With a 5 quart capacity, you can easily feed the whole family. A recipe book of 30 chef curated recipes will help you answer that dreaded daily question: what to make for supper?
This one is for the mom who does not have a pantry or has to make do with a tiny one! Extend the kitchen and the pantry with this piece of furniture. The shelves and the pull out counters make this the perfect spot for a coffee station. The design itself helps in accessing many things at one time. I can see myself using this to store snacks and keep everyone out of my actual cooking space. The hooks and rods on the side help you grab towels or a favorite spatula too. Stowing away your appliances will also become easier with this super cabinet.
In today's kitchen, the air fryer completes the holy trinity of appliances – the other two being the toaster and the electric kettle. If you have an air fryer, you can actually cook a quick and healthy meal! This rack is an answer to all the storage problems one faces when trying to organize ingredients and other products for air fryer cooking. Now, make your mom's life easier with this highly loved and reviewed rack.
Best Mother's Day Gifts for the Active Mom
Staying fit is the new staying alive. Everywhere you look, you will find conscious choices, mindful menus, active lifestyles and so much more. No one wants to age with constantly creaking bones. And moms are no different. Make fitness and health a priority. These are supposed to be high on the list of self care. If you mom loves to stay fit, or is looking to become fit, then these products are just right for her. I am always on the lookout for these products because they help motivate an older person especially after they have been through a major illness or disturbing diagnosis.
The Garmin running and walking watch comes with a number of features to help you remain active. I like that it has a GPS tracker so that mom can be picked up from anywhere if she decides she's too tired to continue. Running prompts and vibration alerts would also be just the thing she needs! I can see her getting a lot of use out of this one. And with its pulse detector and energy monitor, one will always know if there's an emergency of any kind too.
During the winter and with my mom's aching muscles, I realized she needed something that would offer a full body workout at home. This compact piece seems to promise exactly that. The vibration workout means she can get her active hours without too much of an effort or strain on her knees. The loop bands also make for a great partner in resistance training which is great for aging muscles.
This under the desk peddler exerciser is great for my mom because of the number of hours she spends at her crafting table. The machine offers 8 levels of resistance which makes for much comfort and flexibility. The digital monitor keeps reporting and prompting, while the compact size makes for easy portability.
Meditation and proper sleep are some of the ways in which one can stay fit and avoid the typical problems that come with aging. This headband comes with meditation stories and sounds that have been created by sleep experts. The bluetooth feature also helps you remain connected to your phone and receive the healing and soothing sounds. This one is a must buy for mothers who are struggling with quality sleep.
The Garden of Life Multivitamin for women comes with 120 capsules that are packed with a number of vitamins. As the body ages and a woman starts to recover from the ravages of menopause, there is a need for better vitamin supply to the body. What I like about this product is that it has been rated safe for women with a number of conditions and it also has probiotics and enzymes. Ideally, I would love to gift my mother a subscription of this product. My disclaimer, though, is to check with your doctor before you ingest anything.